BDNY's signature Designed Spaces allow attendees to experience dozens of design elements for hospitality interiors in the context of exquisite lounges, cafes and other gathering spaces throughout the exhibit floor. Each space is created by a leading hospitality design team using products from multiple BDNY exhibitors/sponsors—a unique collaboration of industry innovators, with stunning results. All-new Designed Spaces for 2019 include: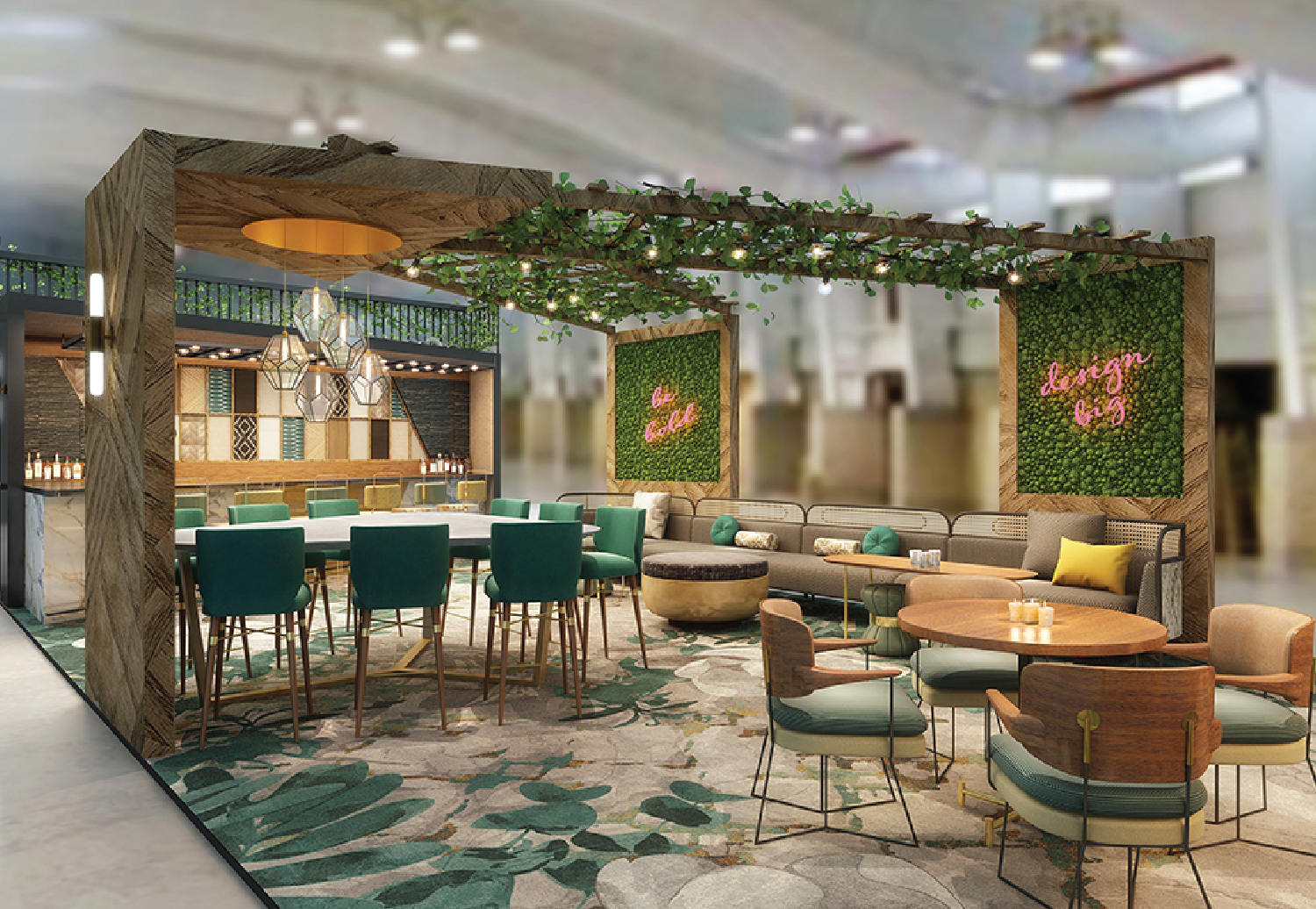 Design Team:
Susan Cordovilla-Gorton, Design Director
Michelle West, Design Director
Christine Shanahan, Principal
Allie Corneal,Creative Director of Branding
Welcome to Fig & Fable – an enchanting Coffee Bar experience that appeals to all senses while evoking a sense of discovery. Draped in lush greenery and effervescent lighting, Fig & Fable envelops guests with its whimsical garden-like charm, allowing them to create their own story within the space. Inspired by the iconic story of Adam and Eve in the Garden of Eden, this space features vibrant emerald green fabrics, warm wood tones, and brushed brass finishes that sit upon a bold, over-sized floral carpet. Come find areas to lounge, connect, and engage, where guests make the space their own. Catering to both the coffee and cocktail drinker alike, Fig & Fable is a flexible destination with appeal to everyone no matter what time of day.
Feature Area Sponsors:
Architectural Ceramics
BDL – Better Designed Lighting
Brintons
Fairmont Designs
Kevin Barry Fine Art
Swavelle-Mill Creek Contract Fabrics
Product Contributor:
Pioneer Pro Audio
MEMENTO: EXPERIENCES WORTH REMEMBERING
Display #2839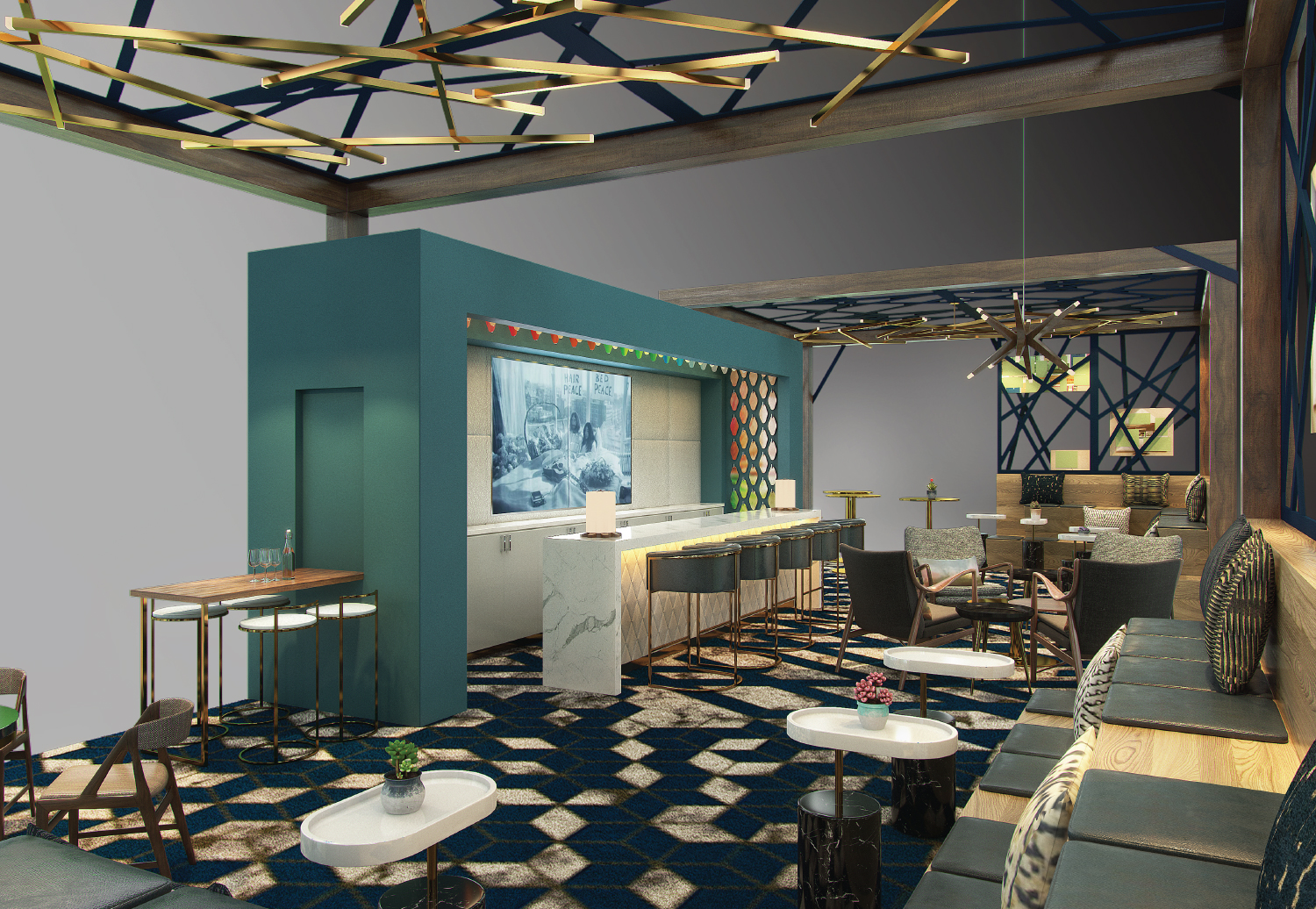 Design Team:
Barry Sullivan, Director of Design, Hilton
Luisa Gonzalez, Sr. Design Manager, Hilton
Katie Kelchner, Sr. Design Manager, Hilton
Ashley Michaels, Design Manager, Hilton
Teri Dolan, Design Manager, Hilton
Carlota Tulloch, VP Brand Engagement and FF&E Procurement, Hilton Supply Management
PJ Barbour, Sr. Director Brand Engagement, Hilton Supply Management
Join us in celebrating Hilton's 100th year anniversary! We invite you to come experience our past contributions to hospitality, interpreted through today's technology with a look towards the innovations of tomorrow. For centuries, travelers around the globe have collected their favorite travel mementos and displayed them prominently on ribbon boards to cherish for years to come. Our interpretation envelops our design space throughout, while displaying Hilton's influence in hospitality and our philanthropic efforts through the establishment of the Hilton Effect Foundation, the launch of Room 702 and our continued commitment to Travel with Purpose. We invite you to share your favorite travel memories with us to be incorporated into our live art installation.

Feature Area Sponsors:
Alger-Triton
Applied Textiles
Fabric Innovations
Formica Corporation
HF Collection
Kalisher
Tarkett
Product Contributors:
Pioneer Pro Audio
StonePeak Ceramics
THE EXCHANGE
A Networking Lounge brought to you by Tribute Portfolio
Display #L1
by Marriott International & Design Poole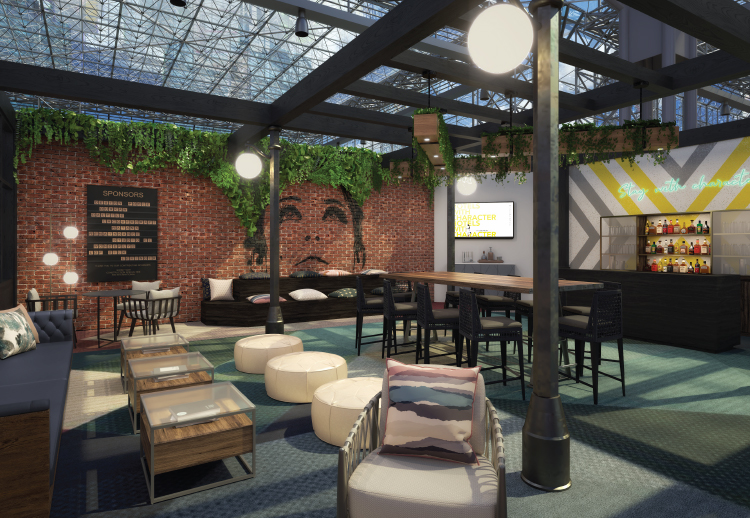 Design Team:
Marriott:
Alison Sobeck, Senior Interior Design Manager
Greg McCullough, Director, Design and Project Management
Linda Laucirica, Senior Director, Design Management
Ashley Ewing Parrott, Director, Brand Management
Design Poole:
Trisha Poole, President
Jorden Adams, Director of Design
Jaymie Borchardt, Interior Designer
Seowoo Jung, Design Assistant
Inspired by the spirit of ingenuity, the Exchange, a networking lounge brought to you by Tribute Portfolio, embodies the process of creativity and collaboration required to deliver a successful three-dimensional expression of a unique hotel brand.
Designed as the ultimate neighborhood bar, this modern-day Salon offers an atmosphere ripe for the free-flowing exchange of ideas. We invite you to immerse yourself in the world of the Modern Maverick. Defining an urban consciousness with a bold, creative vibe, today's new thought leaders sow their ideas for the future on the steps of the city. Just as busy streets transform from work to play, the atmosphere of the lounge will transform as influenced by its visitors.
Learn how Tribute Portfolio captures the imagination with its vibrant social scene, captivating design and sincere service. Grab a front row seat and become a part of this tribe of doers and makers creating the future of hospitality.
Feature Area Sponsors:
Daltile
Durkan
LacquerCraft Hospitality
LDF Silk
Justin David Textiles
Ratana Furniture
Renaissance Contracts Lighting and Metal Furniture
Studio EL
Wonderly's Commercial Window Treatments & Bedding
Product Contributors:
Levinger Booths & Banquettes
Pioneer Pro Audio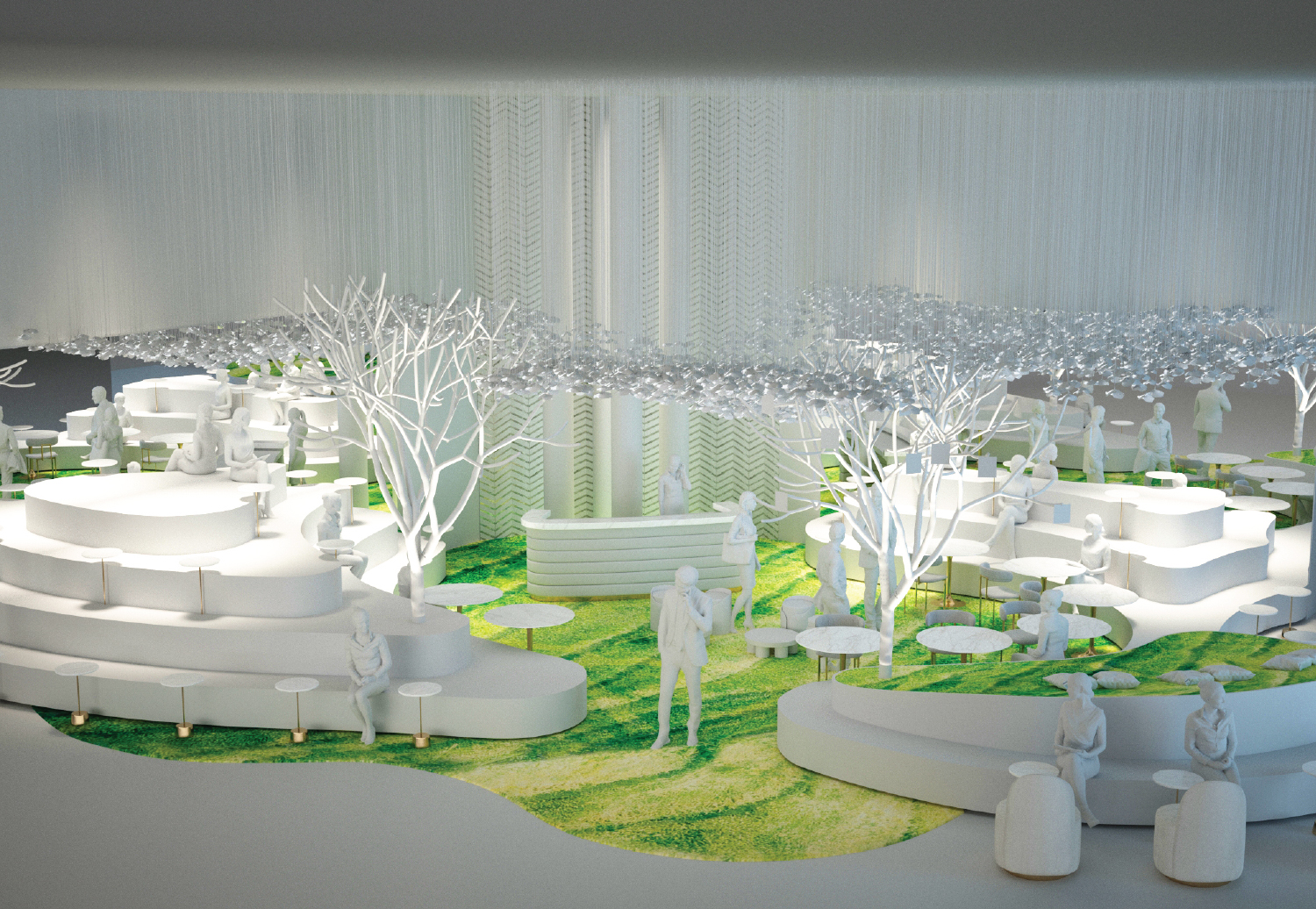 Design Team:
Malcom Berg, President
Chausey Dickinson
Harris Levy
Antonella Jahn
Irene Abreu
Life is fast, sometimes relentless. Stop, breathe, re-center yourself. Step out of the overwhelming rush, step into a space of reductive simplicity. Pause, let yourself flow into an eddy of green – a stratified canyon with eroded walls protecting nurtured lushness. Step into Urban Lush.

Feature Area Sponsors:
BSF
DAC Art Consulting
Formica Corporation
P/KAUFMANN Contract
Ulster
Product Contributor:
Pioneer Pro Audio
ENCHANTED FOREST
Display #2339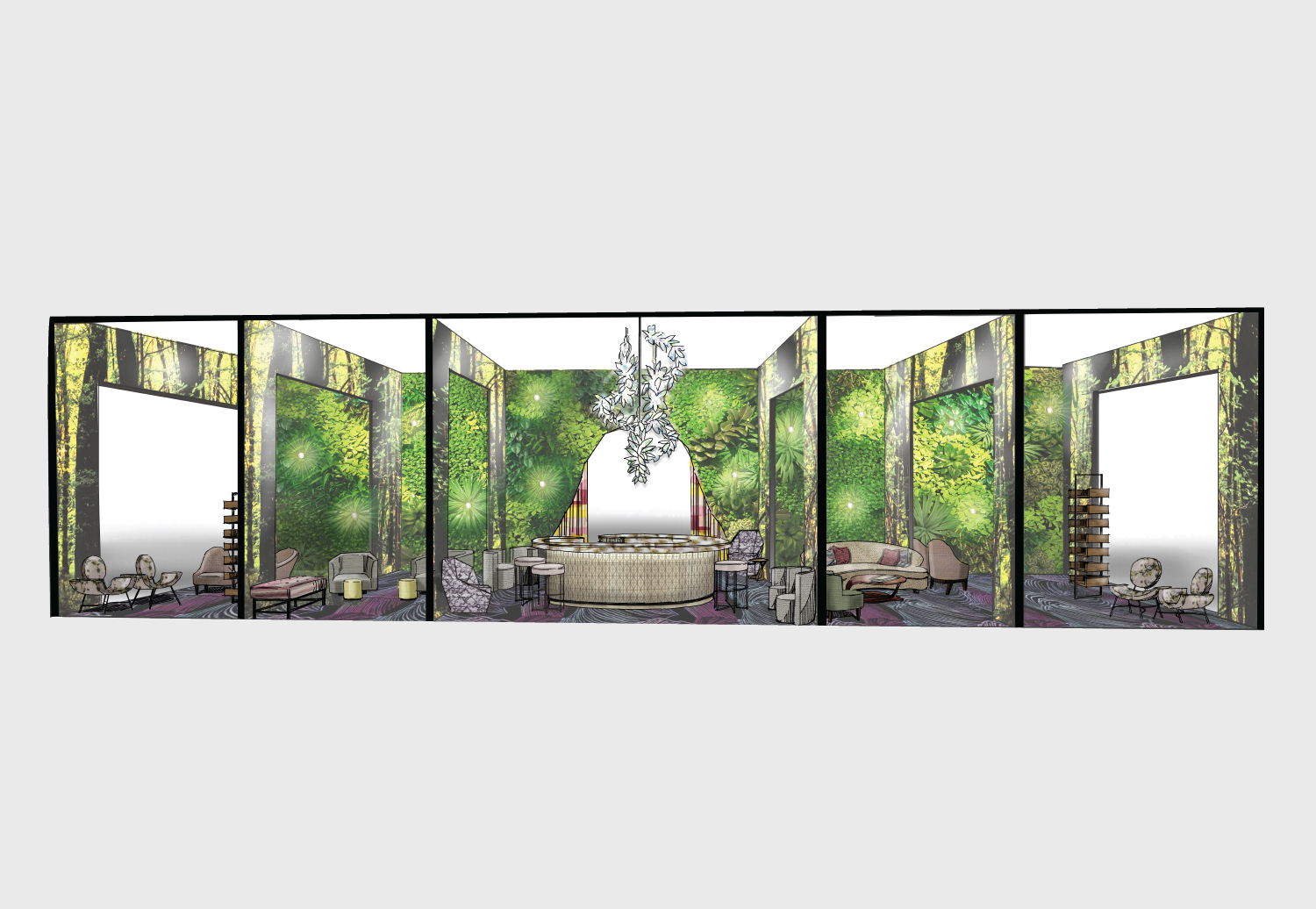 Design Team:
Adam Darter, Senior Associate + Project Manager
Soohyon Chung, Senior Designer
Margaret McMahon, SVP + Global Director, Interiors
We are very excited to be partnering with Valley Forge, Mitchell Gold + Bob Williams, Lodging Concepts, Fine Art Lamps, Milliken and Indoteak on a booth for BDNY this year. We teamed up with these partners to create a very special booth. It was important to everyone involved that we create a space that would not only showcase the products, but also highlighted a vision of sustainable values and beliefs. We made a great effort in thoughtfully selecting recycled materials and finishes, making sure that we really put these values into practice. Continuing with sustainability in mind, the forms and shapes used throughout the space are inspired by nature and the elements that the sustainable practices of Valley Forge and their partners seek to conserve.

Feature Area Sponsors:
Fine Art Handcrafted Lighting
Lodging Concepts Manufacturing
Milliken
Mitchell Gold + Bob Williams Contract
Valley Forge Fabrics
Product Contributor:
Pioneer Pro Audio
Indoteak Design