Mitch Patel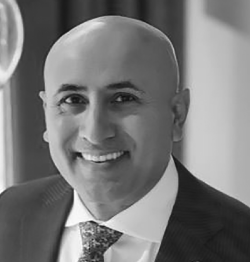 president and chief executive officer
Vision Hospitality Group
Mitch Patel founded Vision Hospitality Group, Inc. in 1997 with the goal of creating a company dedicated to excellence with a focus on community and family.  Today, Vision holds a growing portfolio of 40 hotels, including the company's first boutique hotel, The Edwin, and a pipeline of 9 properties affiliated with premier brands such as Hilton Worldwide and Marriott International.
Mitch has led Vision to be the recipient of many awards, as well as industry media recognition in the fields of development, community service, design and achievement. Most recently, Vision received the Marriott International Partnership Circle Award, Marriott International Developer of the Year Award, Marriott International Serve 360 Award, the Developer of the Year Award for the Hampton Brand by Hilton Worldwide, and the Multi-Brand Developer of the Year Award by Hilton Worldwide.
Mitch serves on the Marriott International Franchise Advisory Council and the Hilton Worldwide Owner's Advisory Council. Mitch maintains his presence on boards of local organizations that support education, the arts and economic development in Vision's hometown of Chattanooga, TN, and is an advocate for ending human trafficking in the hospitality industry.
Mitch holds a Bachelor's degree and a Master's degree in Civil Engineering from the University of Tennessee.