BDNY's signature Designed Spaces allow attendees to experience dozens of design elements for hospitality interiors in the context of exquisite lounges, cafes and other gathering spaces throughout the exhibit floor. Each space is created by a leading hospitality design team using products from multiple BDNY exhibitors/sponsors—a unique collaboration of industry innovators, with stunning results. All-new Designed Spaces for 2021 include:
HYATT PRESENTS: UNAPOLOGETICALLY THOMPSON
---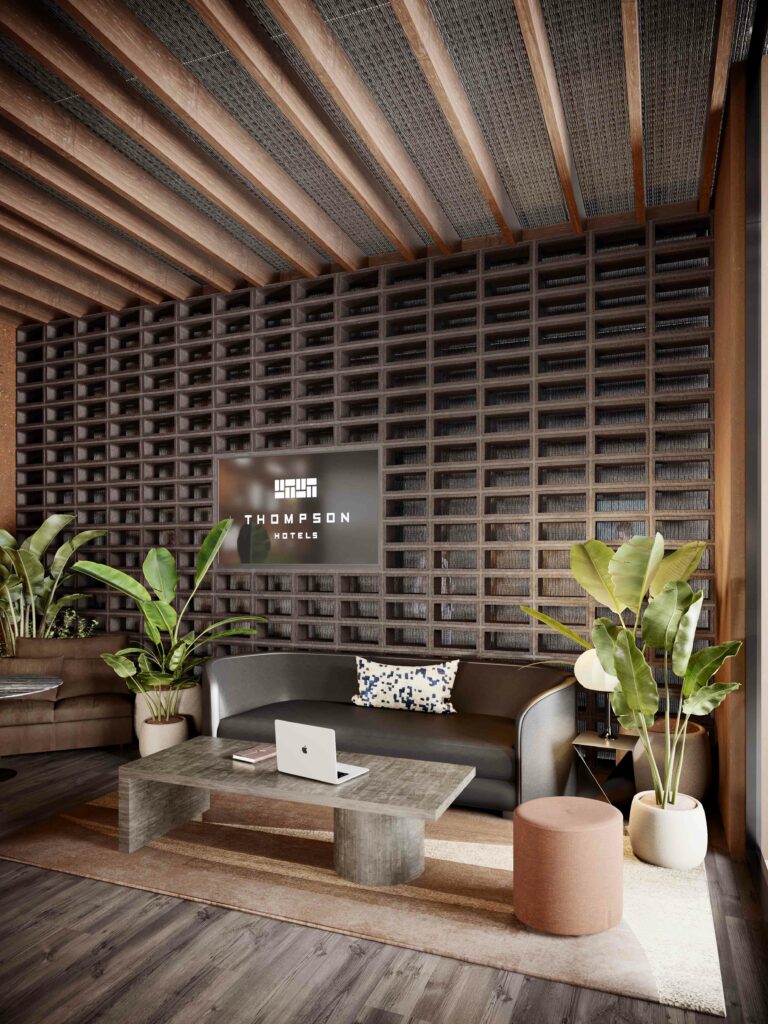 Renderings Contributor:
Radical Galaxy Studio
Design Team:
Emily Keip – Vice President, Americas Design Services
Corinna Bonn – Vice President, Global Product & Brand Development
Kenneth Villamil – Vice President, Global Product and Brand Development
Crystal V. Thomas – Vice President, Global Brand Leader, Lifestyle & Luxury Brands
Alvaro Montoya – Regional Vice President, Lifestyle Studio Head, Americas Design Services
Kerrie Murphy – Director, Design & Planning, Americas Design Services
Unapologetically Thompson reflects Thompson's distinctly edgy and, at the same time, refined approach to art and design. Thompson skillfully balances the contrast between bold and raw elements against softer classic and sculptural silhouettes. What results is a heavily layered approach, where striking architectural materials and Brutalist-inspired elements are offset by curvilinear forms, soft fabrics, and delicate FF&E details. The booth encompasses the ethos of the Thompson brand, blending the best of high and low culture with influences of its locale near the High Line in New York, the city where the brand originated.
Feature Area Sponsors:
• Belstone Products
• Bernhardt Hospitality
• Chapman Hospitality Lighting
• CM Hospitality
• Crypton LLC
• DAC Art Consulting
• Decolav Hospitality
• Nourison Hospitality
• P/Kaufmann Contract
Product Sponsors:
• Pioneer Pro Audio
VOYAGE INTO…
---
BY JEFFREY BEERS INTERNATIONAL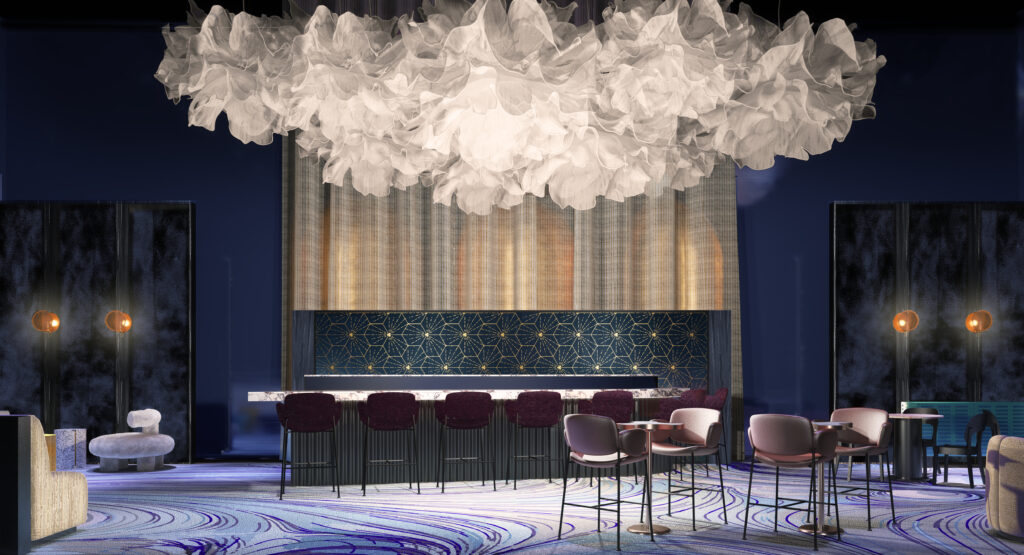 Design Team:
Nikoletta Stagias, Associate
Rene Quickle, Junior Interior Designer
Masako Fukuoka, Principal, Design Director
The design reflects JBI's embrace of project-specific narratives in combination with our current thoughts on our present situation," explains associate Nikoletta Stagias. The space takes inspiration from a deep-sea landscape, with colorful, organic forms set in a moody backdrop to invite visitors to explore the sensory-stimulating furniture pieces, artwork, and lighting. "Maintaining the ethos of our design approach—custom fixtures, artisanal techniques, and elegant proportions—in such a temporary environment is a unique challenge," adds interior designer Rene Quickle. "We worked closely with our sponsors to create unique, versatile pieces that create an innovative, yet inviting, atmosphere. Though it's not meant to last forever, the space has a strong sense of belonging. As we move forward, we must consider—more than ever before—how we interact with the world around us, both natural and manmade. We are choosing to dive boldly in, turning this awakening into a thing of beauty.
Feature Area Sponsors:
Forbo Flooring Systems
Lodging Concepts
Maya Romanoff
PTY Custom Lighting
simplehuman
Valley Forge Fabrics
Supporting Sponsors:
VILLA LE MERIDIEN
---
BY MARRIOTT INTERNATIONAL AND SAGUEZ & DASH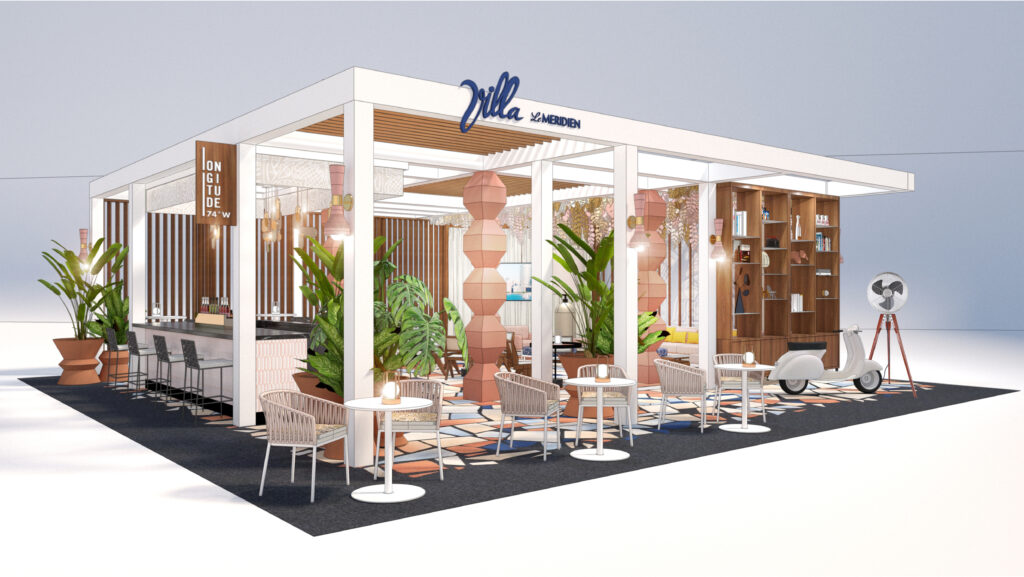 Design Team:
Marriott and Saguez Dash:
Linda Laucirica, Senior Director, Design and Project Management, Marriott
Tracy Smith, Senior Interior Design Manager, Design and Project Management, Marriott
Katie Astuto, Senior Interior Design Manager, Marriott
David Ashen, Partner, Saguez & Dash
Boris Gentine, Creative Director, Saguez & Dash
Isabelle Dufieux, Creative Director, Saguez & Dash
Katrina Vikmanis, Senior Interior Designer, Saguez & Dash
Welcome to a midcentury-inspired New York penthouse with the ambiance of a fashionable party on the French riviera: timeless, glamorous, and festive. This oasis transforms from a café by day to cocktail lounge by evening. "Our goal in creating this lounge is to share the core values of the Le Meridien Brand: chic, cultured, discovery," says Linda Laucirica, senior director, design and project management, Marriott. "The concept and design direction for La Villa Le Méridien was originally inspired by the photography of Slim Aarons and the idea of hosting a chic house party." With a structure evocative of a villa with an open plan under an extended roof, the white metal frame is offset by the warmth of French walnut slats and a palette of a "crisp neutral base with strategic pops of color [to] create a timeless balance," explains David Ashen.
Feature Area Sponsors:
Daltile
Fairmont Designs
Kenco Hospitality
NINE dot ARTS
Remington Lighting
Ratana
Source Direct
Ulster Carpets
Product Sponsors:
Product Contributors:
GSI Signage
Procédés Chénel
Robe Lighting
simplehuman
Wilson Art
Cocktail Party Sponsor:
MindClick
BIJOU
---
BY SIMS PATRICK STUDIO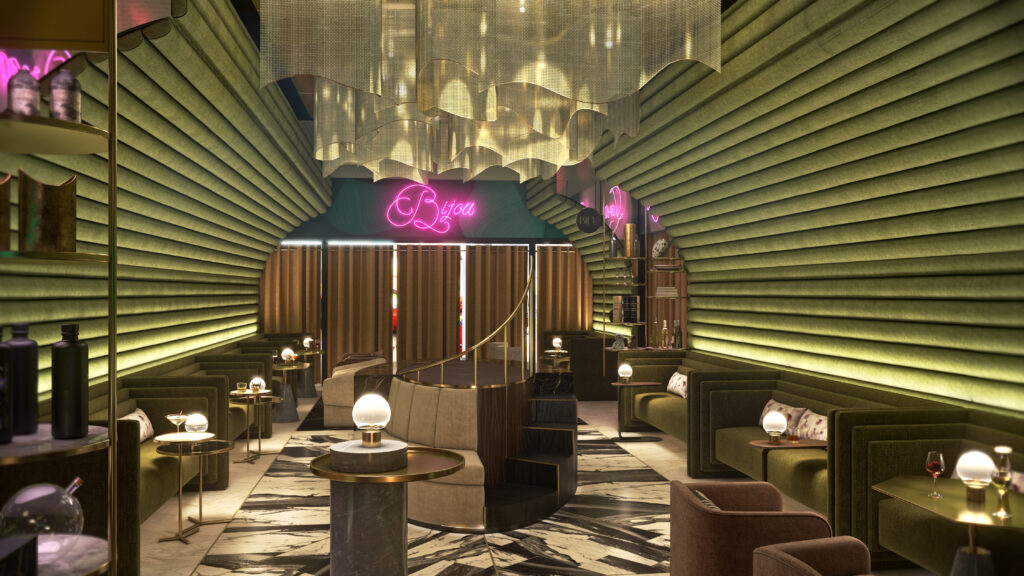 Design Team:
Libby Patrick, CEO
Jenny Rutledge, Vice President, Principal
Melissa Wylie, Vice President, Principal
This "box of curiosity" explores design concepts of a new-age, futuristic speakeasy bar. The fully enclosed box has an exclusive entry experience and will create a sense of wonder and curiosity. The nondescript exterior contrasts the unexpected, whimsical interior space. Once guests enter, they will be transported into a surreal monochromatic refuge with dramatic lighting, ceiling, and focal interactive artwork. The patterns, graphics and elements of the iconic 1920s are implied with a futuristic twist. "The design process has paralleled the process of an intimate lobby lounge space in a boutique hotel," explains Sims Patrick principal Jenny Rutledge, "including a storytelling narrative, programming and sketching, branding identity, collaboration with vendors, 3D modeling, and more." The space will be full of contrast and juxtaposition of organic flowing forms against rigid linear lines. This box of curiosity and wonderment, will provide opportunities for guests to interact, create lasting memories and stand out as the "out of the box" booth design.
Feature Area Sponsors:
Brand Standard Furnishings (BSF)
Ceramic Technics, Ltd.
County Draperies, Inc.
Erica Shamrock Textiles
Eunoia|Modern
Iworks|Light Annex|DAS
The Delos Company
Product Sponsors:
Pioneer Pro Audio
Stylelab
Wilsonart
New Leaf Veneers by Wilsonart
Product Contributor:
simplehuman
Branding Consultant Contributor:
Might & Main